So today was Japan Day in Boston. So since I have no idea how to put on a yukata I decided I would go in a lolita coord. I got this new blonde wig which I plan to use for a future cosplay. I figured before styling it I would use it.
My dress is from H.Naoto Frill. The cuffs and head bow are Baby the Stars Shine Bright.
The festival was a lot like a traditional japanese "matsuri" except that it was in the middle of the city.
One of my favorite booths had custom jewelry hand made from Kyoto.
I bought this LOVELY hair accessory~
There was a huge line for the food. By 1:00pm some of the booths sold out of food. Which makes you wonder what is a good time to get there? I got at the festival when it opened at 10:00am and people were lining up for food. I think in the future I will go around 11:30am.
They have cute performers as well. I know in the late afternoon they have some singers who will sing "Jpop" but in the morning they had little children dance hip-hop.
I felt really special since many people wanted to take a photo with me. It is actually the questions they asked me that inspired me to do a small Q&A at the end of this post~ (Ironically this is one of the only photos where I asked to have this photo done since this lady's entire look was amazing)
One of the Boston lolitas was there. I loved her Coord. It was so "Spring"
It was nice to see some people in yukata since that is what most women wear to the festivals in Japan.
Little girl catching "fish". This is another traditional game in festivals.
Anyway, so as I mentioned earlier in this post I wanted to do a small Q&A because a lot of people asked me the same questions over and over at the festival. I'm hoping maybe some beginner lolitas may read my blog or find it when they look up "how to start a lolita wardrobe" or something. So I hope you find this helpful!
A. Lolita is a Japanese street fashion that started in an area of Tokyo called "Harajuku". It is inspired by French Rococo art (think Marie Antoinette) and has evolved since then into many sub-styles such as "Classic", "Gothic", "Sweet" and so on.
A. No. Lolita is not the same as cosplay. Cosplay is fashion inspired from characters from TV shows or comic books. When you cosplay you are trying to play as a different character. Lolita is my personal fashion style. I am just being myself and my fashion style is not inspired from any other characters.
A. If you are new to lolita fashion I have a few suggestions. The first is try to find out if there is a lolita community near or in your area. Most of us are friendly and are happy to help out. If you are going to go into lolita fashion there are some things you should know. The first is that this is a very expensive style. The dresses can run between $150.00-$400.00, the blouses $50.00-$100.00, hair accessories $20.00-$40.00 etc... This is why most girls buy dresses second hand and usually will buy and sell or trade dresses to have the chance to wear a variety of different styles and prints. My recommendation for new lolitas is to try to get a "lucky pack" when they are released. Lucky packs may seem expensive but they are actually a good bargain. They have all you need to start your lolita wardrobe and then once you are more familiar with the style you can sell things and branch out. Also most luck packs are done by "brand" names so they are all really well done.
A. Brand names are usually the Japanese big guns. Some popular ones are: "Baby the Stars Shine Bright", "Alice and the Pirates", "Innocent World", "Moi Meme Moitie", "Victorian Maiden", "Jane Marple", "Angelic Pretty", "Mary Magdalene", "Juliette and Justine", "Metamorphose", "Milk", "Putumayo" etc...
There are some indie brands, Chinese brands and Korean brands that are slowly becoming more popular.
Mood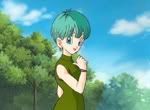 Optimistic